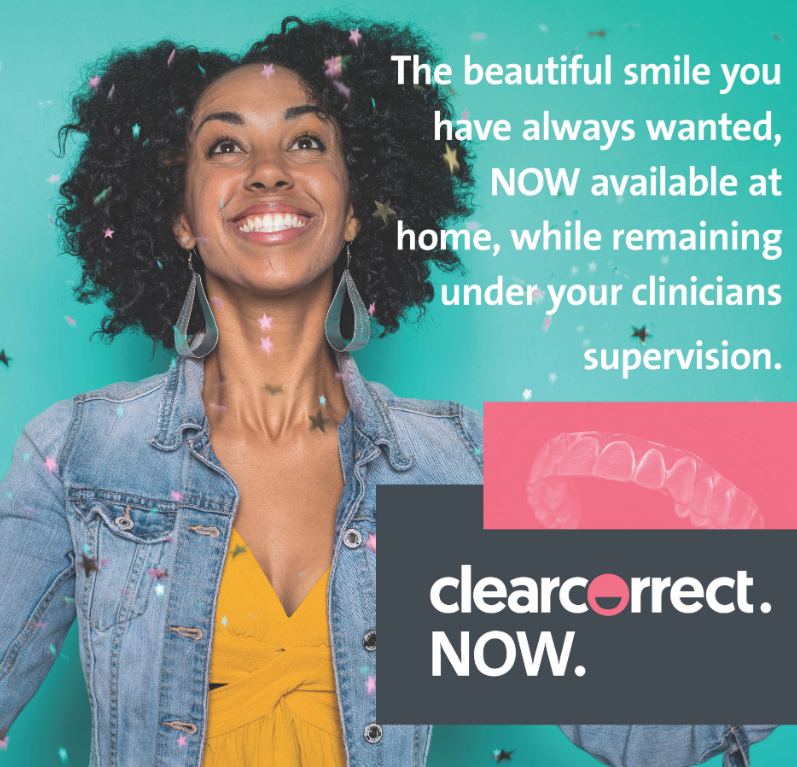 Clear Correct Invisible Aligners Serving Kingston and KFLA areas
ClearCorrect is the clear and simple alternative to braces.
It's a series of clear, custom-made, removable aligners that gradually straighten your teeth as you wear them, each aligner moving your teeth just a little bit at a time.
They're practically invisible, so most people won't even know you're in treatment, they fit you perfectly, so they're more comfortable than regular braces, and they're removable, so you can eat whatever you like and clean your teeth normally.
Our office provides ClearCorrect. Book your consultation today for more information about ClearCorrect and what it can do for your smile.
Why clear aligners?
To correct malocclusion, a growing number of patients and doctor prefer clear aligners to traditional wires and brackets, due to advantages such as:
Nearly-invisible appliances
No dietary restrictions
No obstructions to flossing or brushing
Controlled single-tooth movement
Remote monitoring options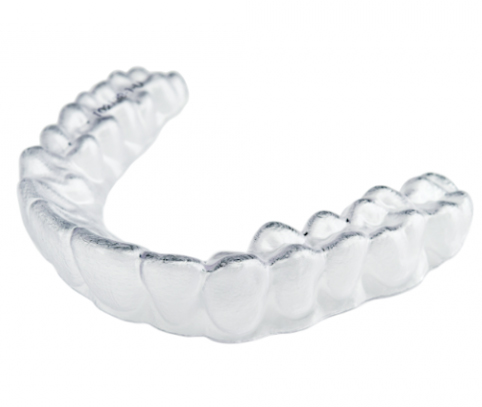 Looking for an alternative to metal braces?
ClearCorrect is the clear and simple choice. No wires. No brackets. Just clear, convenient comfort—every reason to smile.
With ClearCorrect, your dentist or orthodontist can straighten your teeth using a series of clear, custom, removable aligners. Each aligner moves your teeth just a little bit at a time until you eventually get a straighter, healthier smile.
See how ClearCorrect compares with other orthodontic treatments with this comparison chart.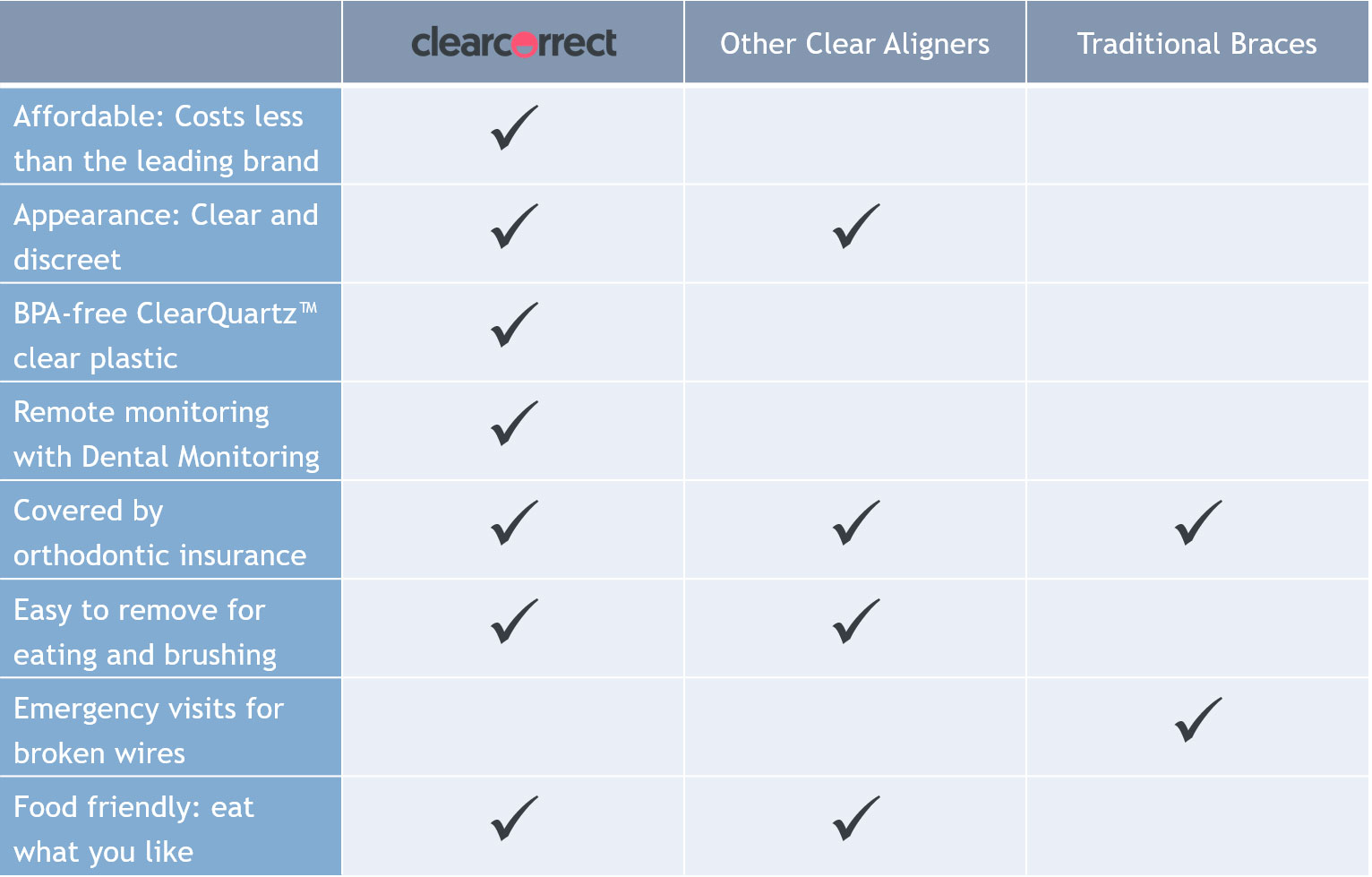 How does it work?
You and your doctor will evaluate your teeth and talk about any problems or goals you have for your smile. Once you and your dentist establish ClearCorrect is the right treatment option for you, your dentist will take impressions, photos, and x-rays of your teeth that ClearCorrect uses in manufacturing your custom aligners. Then your dentist writes a prescription for your custom aligners and sends it to ClearCorrect.
What can it do?
ClearCorrect can treat a wide variety of issues and case types that keep people from achieving their ideal smiles. Straighter teeth don't just look better; they work better too. Poorly-aligned teeth can interfere with bite function, wear out quicker, and are more prone to cavities. Ask your dentist how ClearCorrect can help you.
How much does it cost?
ClearCorrect is a more affordable option compared to other dentist-supervised clear aligner therapy programs and treatment for simple cases starts at $1499. Extremely complex cases can cost as much as $5500. For more info on ClearCorrect pricing, click here. We also offer 0% financing options to our patients.
How Clear Correct Works
Virtual Consultation – A free smile evaluation done from the comfort of your own home provides us with a chance to evaluate your oral and dental health. With both the doctor's and patients' health and safety as a top priority, we can assess your suitability for clear aligners and guide you to the appropriate clinic location for a professional scan.
Clear Correct Scan – Visit your dental clinic for a professional ClearCorrect scan. A Licensed Dental Hygienist will scan your mouth and take photos to be used in your personalized treatment plan.
Treatment Planning – The dentist and orthodontist design your personalized treatment plan that is customized for your mouth and your smile.
Remote Monitoring – ‍The monitoring will support your busy schedule and smile goals. Your doctor tracks your progress throughout your treatment through remote monitoring.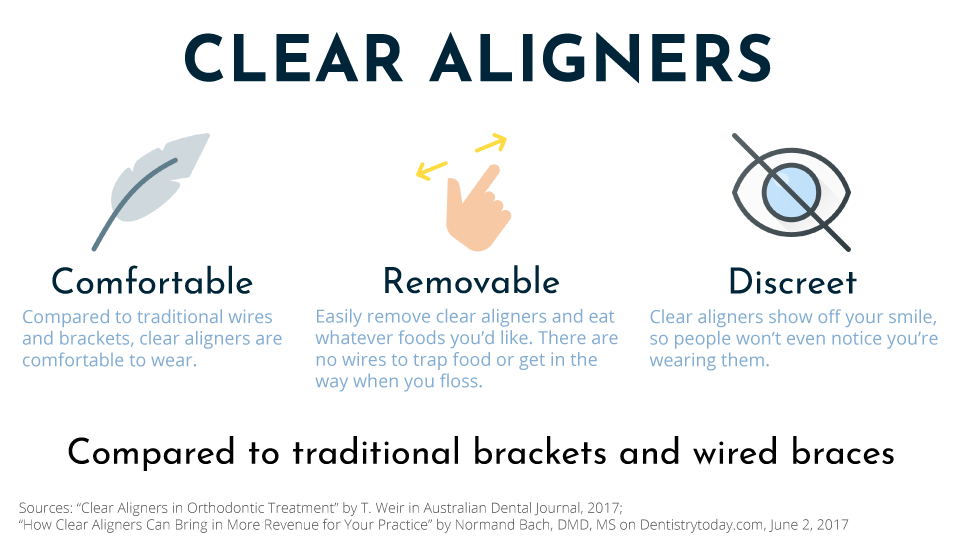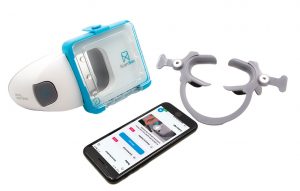 Straighten Your Teeth with Less Visits to the Dentist using Dental Monitoring (No Additional Cost)
ClearCorrect utilizes remote Dental Monitoring to help your dentist track the progress of your clear aligner therapy. Allowing you and your doctor to follow the evolution of your treatment remotely, you can complete your aligner therapy with less in-person appointments.
Using a set of pictures simply taken with a smartphone, and if available a standard 3D scan from a dental practitioner, the Dental Monitoring application allows dental practitioners to accurately monitor a large variety of dental conditions, including the progress on your ClearCorrect aligner therapy. You don't need technical expertise to use Dental Monitoring, and you will receive specific notifications and instructions from your dental practitioner.

Powered by Artificial Intelligence
Thanks to the AI powered dental monitoring, we are able to monitor and advise you on your treatment no matter where you are in the world.

We have completed thousands od clear aligner tretments and have the experience to do the job properly.

ClearCorrect prices are fixed so there are no surprises. Treatment starts at just $1499.

Not sure if ClearCorrect is for you? Book a free consultation or begin your Virtual Check today to find out.
Have a question or want to book an appointment?
Click on the button below to ask us a question, check your insurance, or request an appointment online at one of our many locations.
Contact Us
Our family friendly clinic is now accepting bookings at our patient friendly environment in Eastern Kingston. Did we mention heated, massage dental chairs?
Visit Me
96 Innovation Drive
Kingston, ON K7K 7E6